Our local Ruby group got together again at Coroutine's Memphis office at the end of July with a good crowd and two all-new presentations. We had around 15 people show up for pizza and talks, including several new faces! Thanks everyone for making it a memorable meetup. This month's presentations were from regular attendee Jason Charnes and from me, Daniel Pritchett.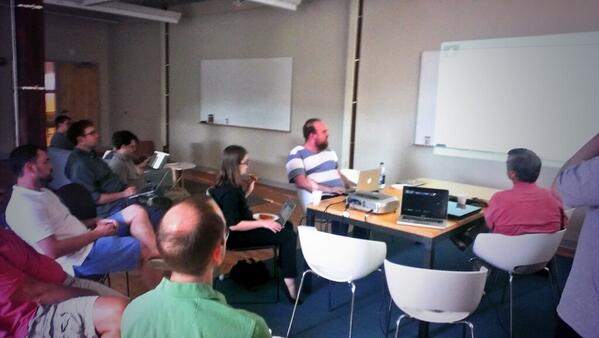 Jason gave us a great walk through of his experience learning different statically typed languages in school and then drifting towards dynamic languages for his personal projects (and for work!). His presentation covered some of the highlights of the Ruby language and the Ruby ecosystem, from the natural-language feel of Ruby to the many libraries freel available via rubygems. See Jason's slides here.
I put together a second presentation on xray-rails, a gem that helps me regularly when working on views for larger Rails projects. The functionality of xray is pretty simple when explained, but I had a good time digging into the internals of the gem to see how exactly it manages to inject HTML and JavaScript to views as they're rendered so that you can trace the source of each page element to a source template.
Elsewhere in Memphis tech...
Java User Group organizer Thomas Langston dropped in on July's meeting. Their August meeting is coming up in ten days!
HackMemphis (September 14) is getting closer and still seeking volunteers and sponsors.
This year's TechCamp Memphis will be on November 2 at Southwest Tennessee Community College. There is an open call for presenters. Send in a proposal today - I did!
How can I participate in the next MRUG meetup?
There's lots of ways to help out: show up, give a presentation, bring a friend, follow us @MemphisRuby on Twitter. The next meetup time and location will be posted on Meetup soon.
About the Author
Daniel Pritchett
Daniel likes solving business problems with custom software and is having lots of fun doing that at Coroutine. Ask me about the Memphis Ruby Users Group!
---
Recent Posts
---
Author Topics
---